Dallas Cowboys - Great Season!!
Dallas Cowboys - Great Season!!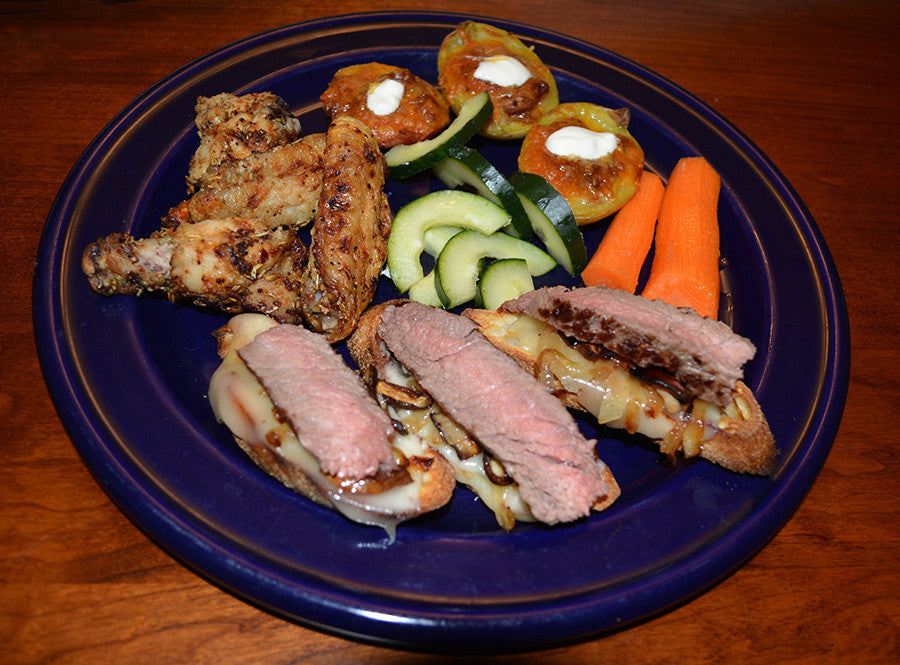 One of the most familiar teams to me while I was growing up, and I don't really know why, the Cowboys have always been a fun team to watch.  I lived horses for most of my growing up time, and  living in the west, cowboys were part of that. When I heard of a football team called the Cowboys, it was a natural fit.  It wasn't until later that I became aware of the other football teams, and only in the last 10 years have I been able to actually watch a whole football game. I caught only parts of them due to children, work, etc. Now, with children out of the house, I can cuddle up with my husband and really enjoy the finer parts of football.  I can't believe how much he knows about football and how much I've learned from him in the past few seasons.
And they say football isn't art!!!  
So, here is my potato suggestion for the Cowboy fans out there.
POTATOES 
Chilled steamed potatoes have a very low Glycemic Index, loaded with resistant starch. That makes them an excellent choice for a healthy snack. I find the traditional potato skin much too big, and too filling (but delicious) to allow eating anything else from the table. So I use a smaller, 2-3 bite waxy potato such as red or yukon, steam them, then allow them to chill in the refrigerator overnight. 
I cut them in half, then scoop them out with a tablespoon or teaspoon, leaving about 1/4" of potato to give support.  These are very simple potatoes but full of flavor and totally delicious.
You put a healthy pinch of cheddar in the potato, top with a scoop of chili, and pop into the broiler for a few minutes. I like to have the chili heated a bit so that the potato doesn't heat up too much, possibly reducing the amount of resistant start.  It is also easier to pop them in your mouth if the potato isn't terribly hot.  
A baked potato with chili and cheese is a lunch or dinner item that I enjoy thoroughly. Making it into a one or two bite snack is fabulous. Enjoy these potatoes with your favorite chili and cheese.
WINGS  roast at 435°F for about 30 minutes 
Wings are notoriously high calorie due to the deep fries nature of the traditional wing. Here, I dry them, put a bit of oil and seasoning on them, and then roast at a high temperature. This results in a very crispy, flavor intense, lower calorie treat that is relatively healthy. It is not just the roasting that makes it healthy, though, but also the fat that is in the chicken skin contains loads of mono unsaturated fats, and the dark meat has healthy fats and nutrients as well.  While not exactly a health food like kale, it certainly does not deserve to be demeaned as one of the most unhealthy foods ever.  
So, cut the tips off the wings, cut into two sections, dry off with a paper towel, then put them all in a bowl with enough oil to lightly coat them. Use avocado oil if possible, as it retains it's healthy benefits at high temperatures.   
Dump your dry seasoning in, (a BBQ one of course!) and then rub the oil and seasonings into the wings until well coated.  Place wings on an oven safe cooling rack. This allows the excess fat to drain off, making them even more crisp and healthy.  Place rack into a foil lined baking pan, and roast for about 30 minutes. Be sure they are done, use a thermometer to check for temperature-175°F for safest temp. If not brown enough, or for best results, turn broiler on high and broil the wings for about 5 minutes, watching closely until they are to your liking. Before broiling is a great time to add a glaze, BBQ sauce, or honey. YUMMY!!
STEAK CROSTINI
Steak is awesome in Texas. I had dinner with a man from Texas at one of our local restaurants, and he was going to order a steak - until I told him it was only about 1/2" thick.  I think he nearly passed out!  He ordered NW Salmon instead, and was thrilled.  So, as an homage to the steak lovers in Texas, and Texans football fans, I developed a steak crostini that is awesome!!!
Baguette  sourdough, French, Italian, your favorite - slice about 1/4" or a bit thicker, toast
Cheese - I use Fontina, but bleu cheese would be delicious, and of course, a cheddar or monterey jack. or something spicier. slice thin to generally fit the toast.
Mushrooms  I used shiitake, but cremini would be good, or a mix of wild. Slice thin and saute gently
Shallots something that I usually do when I have mushrooms, they are a bit more mild than regular onions. Slice thing and saute with the mushrooms. Not necessary to carmelize, but it is delicious that way.  Or, keep them raw for a sharper oniony taste.
Steak - My go to favorite for just about anything is top sirloin, as it is relatively lean, doesn't have much waste, is quite tender, and has a great flavor.  Pan sear on both sides, but keep it medium rare (or medium if that is more your style). Season with salt and pepper or another seasoning of your choice. You can also BBQ if the weather is amenable.  Here, it is very cold, wet, and sometimes icy during the playoffs.
Toppings - I like it without toppings, but feel free to add a slice of Jalapeño pepper, more cheese, BBQ sauce, sour cream, etc. 
Put cheese on top of steak, broil until cheese is just warm and starting to melt. 
Place mushrooms and onions on (if you want) and return to broiler until cheese is starting to 
drip and is bubbling a bit. 
Slice steak to about 1/4" thickness, if very tender, you can make it thicker. 
Remove to serving tray and add steak to the top of the toast. 
Top with whatever you think is best, I like mine 'honest' with no extras.
Crostini is delicious hot, cold, or room temperature, so don't be afraid to make 
a lot of them, as they will go very quickly, whether or not they are hot.
There you have it!!l An awesome plate of snacks that are delicious hot or room temperature or cold, food you can snack on during the game or halftime.
Enjoy and live-nimble.!!!