New England Patriots Delight!
New England Patriots Delight!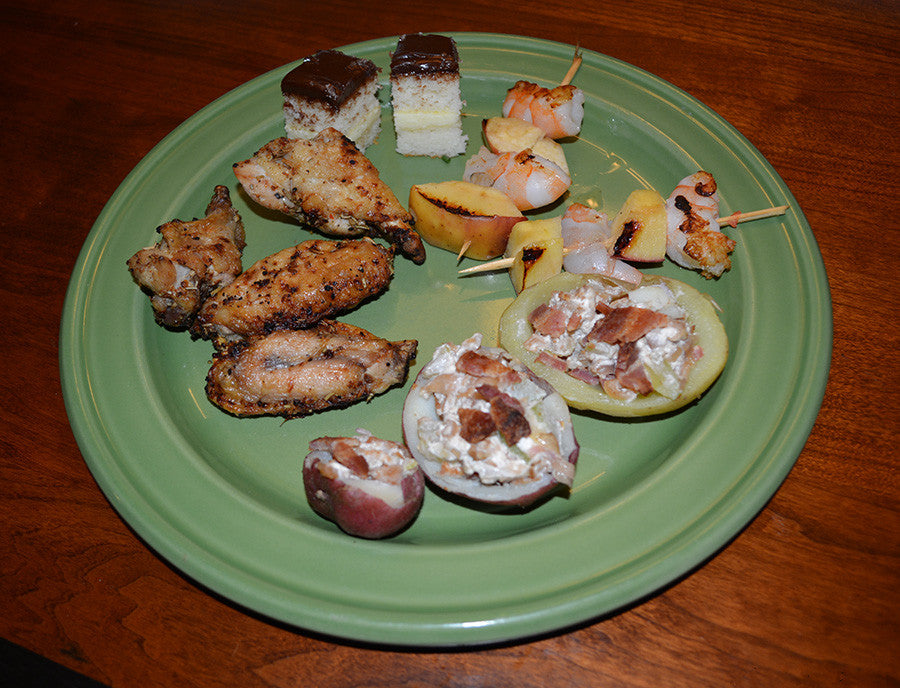 Seafood, particularly clams and lobster and…well, other seafood is as iconic as Boston baked beans. I have spent a few vacations in the Boston area, and have had some amazing clam chowder and lobster rolls and lobster omelettes.  I can hardly wait to get back there again!
When thinking about what to do for the stuffed potato skins, I kept coming back to clam chowder, so here is the clam chowder stuffed potato skins!
POTATOES  
Chilled steamed potatoes have a very low Glycemic Index, loaded with resistant starch. That makes them an excellent choice for a healthy snack. I find the traditional potato skin much too big, and too filling (but delicious) to allow eating anything else from the table. So I use a smaller, 2-3 bite waxy potato such as red or yukon, steam them, then allow them to chill in the refrigerator overnight. 
I cut them in half, then scoop them out with a tablespoon or teaspoon, leaving about 1/4" of potato to give support.
Ingredients
roast bacon on an oven-safe cooling rack, placed in a foil lined baking sheet until crisp
pat off extra grease, chop into small pieces
combine celery and shallot with a bit of oil, sautee until soft, add clams
combine clam mixture with cream cheese
put a pinch of bacon in the bottom of the potato
scoop some cream cheese/clam mixture into the potato
top with a few pieces of bacon
broil for a few minutes on rack 
sprinkle chives on top if wanted 
Delicious hot or at room temperature.
WINGS
  roast at 425°F for about 30 minutes
Wings are notoriously high calorie due to the deep fried nature of the traditional wing. Here, I dry them, put a bit of oil and seasoning on them, and then roast at a high temperature. This results in a very crispy, flavor intense, lower calorie treat that is relatively healthy. It is not just the roasting that makes it healthy, though, but also the fat that is in the chicken skin contains loads of mono unsaturated fats, and the dark meat has healthy fats and nutrients as well.  While not exactly a health food like kale, it certainly does not deserve to be demeaned as one of the most unhealthy foods ever.  
So, cut the tips off the wings, cut into two sections, dry off with a paper towel, then put them all in a bowl with enough oil to lightly coat them. Use avocado oil if possible, as it retains it's healthy benefits at high temperatures.   
Dump your dry seasoning in, (may be Old Bay?) or just salt and pepper, and then rub the oil and seasonings into the wings until well coated.    Place wings on an oven safe cooling rack. This allows the excess fat to drain off, making them even more crisp and healthy.  Place rack into a foil lined baking pan, and roast for about 30 minutes. Be sure they are done, use a thermometer to check for temperature-175°F for safest temp. If not brown enough, or for best results, turn broiler on high and broil the wings for about 5 minutes, watching closely until they are to your liking.  
SHRIMP AND APPLE KEBOB  - 
fry kebobs on each side a few minutes until done
Boston has a heavy influence of seafood as I noted earlier. One thing you see quite a bit of is Shrimp. While a buffet for football will include clam chowder and baked beans, I thought this might be a wonderful change of pace, but still include the spirit of New England.  Apples and apple cider were also extremely important in this area
ingredients
large shrimp
apples, cut into eight wedges, and then 4 slice cross wise
thread one piece of shrimp and then one piece of apple, repeat.
This is terrific as a simple appetizer, a great finger food.The flavors are great together. To make this truly amazing as an elegant entry, add chunks of chicken to the kebob about the same size as the apples and shrimp. Cook with a small amount of oil in a non stick pan 
Make a light sauce with white grape juice, a touch of curry, and some small dice onions.  Thicken if desired,  and serve over  the kebobs and perhaps some rice.  WOW!