Seattle Seahawks Score!!
Seattle Seahawks Score!!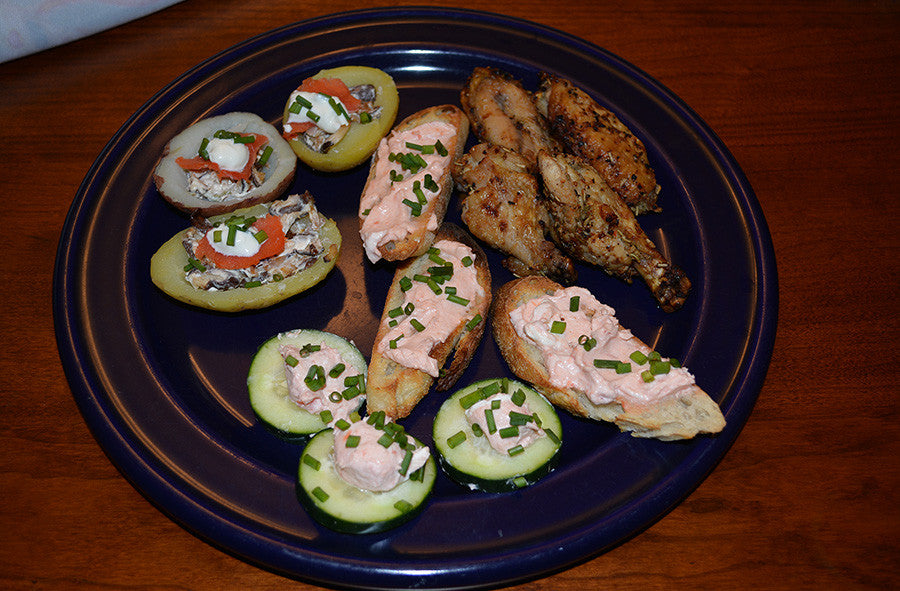 Seattle is beautiful city on the water with fabulous food, a great night life, the 12th man,  extremely educated and exciting residents, and great culture. Yes, I am partial to the Seahawks, because in Oregon, we have no pro football team. Besides, I love Pete Carroll's exuberant joy. 
Salmon is big in the Northwest, so I have created appetizers based on Salmon and a few asian influences.  There is a salmon flavored stuffed potato, a salmon mousse bread and cucumber treat, and an asian wing.   First, the potatoes.
Potatoes
Chilled steamed potatoes have a very low Glycemic Index, loaded with resistant starch. That makes them an excellent choice for a healthy snack. I find the traditional potato skin much too big, and too filling (but delicious) to allow eating anything else from the table. So I use a smaller, 2-3 bite waxy potato such as red or yukon, steam them, then allow them to chill in the refrigerator overnight. 
I cut them in half, then scoop them out with a tablespoon or teaspoon, leaving about 1/4" of potato to give support.  I used cream cheese, finely chopped smoked salmon, sauteed, thinly sliced shiitake mushrooms, and sauteed diced shallots. I soften the cream cheese, then mix in the salmon, warm mushrooms and shallots. It made a nice semi-soft mixture.
Put a Tablespoon, or amount according to your tastes, into each potato, and top with a small piece of salmon, some sour cream and some chives.  A tiny sprig of dill is beautiful and the dill is a natural compliment  to the salmon. The amount of each ingredient will vary according to how much you need. Proportionately, I used about 2 ounces of cold smoked salmon, 2-3 Tbs of cream cheese softened, 3 Tbs of chopped mushrooms, ! Tbs minced shallot, and fresh ground pepper to taste. You shouldn't need salt. They can be eaten cold or at room temperature. 
WINGS  
Roast at 425°F for about 30 minutes
Wings are notoriously high calorie due to the deep fries nature of the traditional wing. Here, I dry them, put a bit of oil and seasoning on them, and then roast at a high temperature. This results in a very crispy, flavor intense, lower calorie treat that is relatively healthy. It is not just the roasting that makes it healthy, though, but also the fat that is in the chicken skin contains loads of mono unsaturated fats, and the dark meat has healthy fats and nutrients as well.  While not exactly a health food like kale, it certainly does not deserve to be demeaned as one of the most unhealthy foods ever.  
So, cut the tips off the wings, cut into two sections, dry off with a paper towel, then put them all in a bowl with enough oil to lightly coat them. Use avocado oil if possible, as it retains it's healthy benefits at high temperatures.   
Dump your dry seasoning in, and then rub the oil and seasonings into the wings until well coated.    Place wings on an oven safe cooling rack. This allows the excess fat to drain off, making them even more crisp and healthy.  Place rack into a foil lined baking pan, and roast for about 30 minutes. Be sure they are done, use a thermometer to check for temperature-175°F for safest temp. If not brown enough, or for best results, turn broiler on high and broil the wings for about 5 minutes, watching closely until they are to your liking.  
Seasonings for the wings might be, of course, asian rubs, a BBQ rub for ribs or chicken, or no rub, as chicken wings roasted are pretty awesome. Lemon pepper, is always delicious. you can always glaze them under the broiler with your favorite jam, glaze,BBQ sauce, or dip them after they are done.  So many ways!  For Seahawks fans, and the dominance of salmon, I would suggest a lemon pepper, a fruity jam such as mango habanero, peach, orange marmalade, apricot preserves, you get the idea. 
Salmon mousse
on cucumber or crostini
2 ounces cold smoked salmon
3 ounces soft cream cheese
3 tablespoons creme fraiche or sour cream
2 tablespoons chopped fresh or drained canned pineapple
I did not have pineapple, and it was a hit anyway.  Delicious!!!  However, try it with the pineapple, I think it would be incredible. 
Mix in food processor, immersion stick, finely chop and mix, or use a small processor. 
Spread on a small toasted slice of bread, baguette, etc. I like sourdough baguettes. 
Or, put half a teaspoon on a cucumber slice. You may put more on if you like, I find the salmon and mushrooms to have a very strong flavor profile, and enjoy the mediating effect of the cucumber.  Ad a tiny touch of sour cream and chives or dill on top for decoration
PREPARING AHEAD OF TIME
The potatoes can be cooked and chilled days ahead. The salmon filling can as well, at least a day or two ahead. The salmon mousse can be made ahead, but the pineapple will cause it to get mushy, so wait until the minute or don't do it. Toast and cut the cucumber just before needed, and cook the wings about 30 minutes before you need them.  You can keep them warm for an hour or so in a 200°F oven. 
Enjoy and Live-Nimble!