Kansas City Chiefs Football Snacks!!
Kansas City Chiefs Football Snacks!!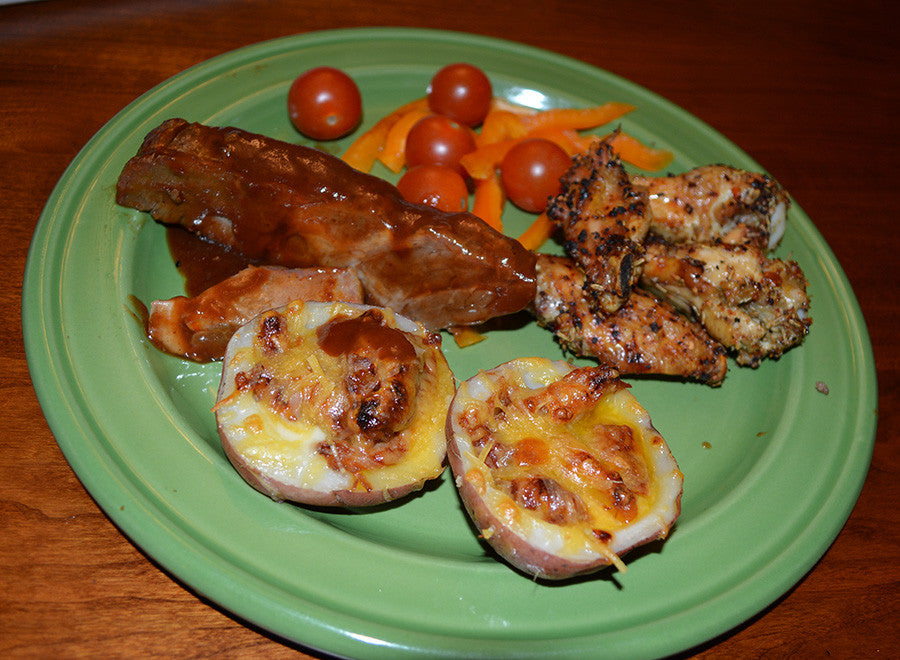 Ready for your playoffs?  As you are getting ready for the game, don't forget the food!  The biggest contenders for the buffet table are wings and potato skins, but those can be dreadful on your health meter.  Here are a few recipes that are healthy (really), traditional, delicious!
How can potato skins be healthy?  Instead of baking then deep frying, try steaming, chill overnight, then scoop out and fill with delicious fillings and warm them in the oven.  Kansas City, of course, means BBQ!!!!!   I love their BBQ, although I have not actually eaten in Kansas City. I do love the BBQ site, amazingribs.com, which has everything you need to know about BBQ, sides, sauces, tricks, tips, and secrets. I use their recipes for rubs and sauces, but since that can take a while, I opted to buy  prepackage (gasp!!) ribs and pulled pork.  I was delighted with them both! Although definitely not as good as home made or from a top notch BBQ place, they were definitely delicious.
POTATOES 
I thought pulled pork on a potato! Chilled steamed potatoes have a very low Glycemic Index, loaded with resistant starch. That makes them an excellent choice for a healthy snack. I find the traditional potato skin much too big, and too filling (but delicious) to allow eating anything else from the table. So I use a smaller, 2-3 bite waxy potato such as red or yukon, steam them, then allow them to chill in the refrigerator overnight. 
I cut them in half, then scoop them out with a tablespoon or teaspoon, leaving about 1/3" of potato to give support. Then, a pinch of sharp cheddar, a scoop of (warm to hot) BBQ pulled pork, maybe a bit of cheese on top, and then under the broiler for a few minutes to heat up.  
There you have it! A healthy potato skin/slider!  I used red or yukon potatoes that were about a 2 bite size, so there wasn't really enough room for the slaw you usually find on a pulled pork sandwich, but, hey, if you use a big one, or a long russet baker, then the slaw would be perfect, and absolutely delicious.
WINGS   Roast at 425°F for about 30 minutes
Wings are notoriously high calorie due to the deep fries nature of the traditional wing. Here, I dry them, put a bit of oil and seasoning on them, and then roast at a high temperature. This results in a very crispy, flavor intense, lower calorie treat that is relatively healthy. It is not just the roasting that makes it healthy, though, but also the fat that is in the chicken skin contains loads of mono unsaturated fats, and the dark meat has healthy fats and nutrients as well.  While not exactly a health food like kale, it certainly does not deserve to be demeaned as one of the most unhealthy foods ever.  
So, cut the tips off the wings, cut into two sections, dry off with a paper towel, then put them all in a bowl with enough oil to lightly coat them. Use avocado oil if possible, as it retains it's healthy benefits at high temperatures.   
Dump your dry seasoning in, and then rub the oil and seasonings into the wings until well coated.    Place wings on an oven-safe cooling rack. This allows the excess fat to drain off, making them even more crisp and healthy.  Place rack into a foil lined baking pan, and roast for about 30 minutes. Be sure they are done, use a thermometer to check for temperature-175°F for safest temp. If not brown enough, or for best results, turn broiler on high and broil the wings for about 5 minutes, watching closely until they are to your liking.  
Seasonings for the wings might be, of course, a BBQ rub for ribs or chicken, or no rub, as chicken wings roasted are pretty awesome….you can always glaze them under the broiler with your favorite BBQ sauce, or dip them after they are done.  So many ways!  
RIBS
So, this third choice is not particularly healthy.  I would suggest a pulled pork sandwich with lots of slaw, but if you have potatoes with pulled pork and slaw this might be pork overload. I would suggest ribs as your best choice.  
I am sorry, but I can't really make these healthy.  There is just too much sugar in the sauce, although with just the dry rub, it would be healthier.  I have used the amazingribs.com website for all my BBQ adventures. It has loads of incredible recipes, all the how-to information you need, and just plain delicious.  
If you do not want to go to that extreme, there are (gasp) precooked packages of ribs in the store. I found one that was very delicious, and definitely plate and football worthy. No bones, so it loses some points for not being able to satisfy that need, but delicious all the same.
I would recommend a large helping of slaw, or veggies, (I have put sliced orange bell peppers and cherry tomatoes on the plate) to help balance out the other tasty finger foods, and help you feel healthier/less guilty about eating those ribs!
Enjoy your finger foods, good luck, Chiefs!