Pittsburgh Steeler Playoff Treats!!
Pittsburgh Steeler Playoff Treats!!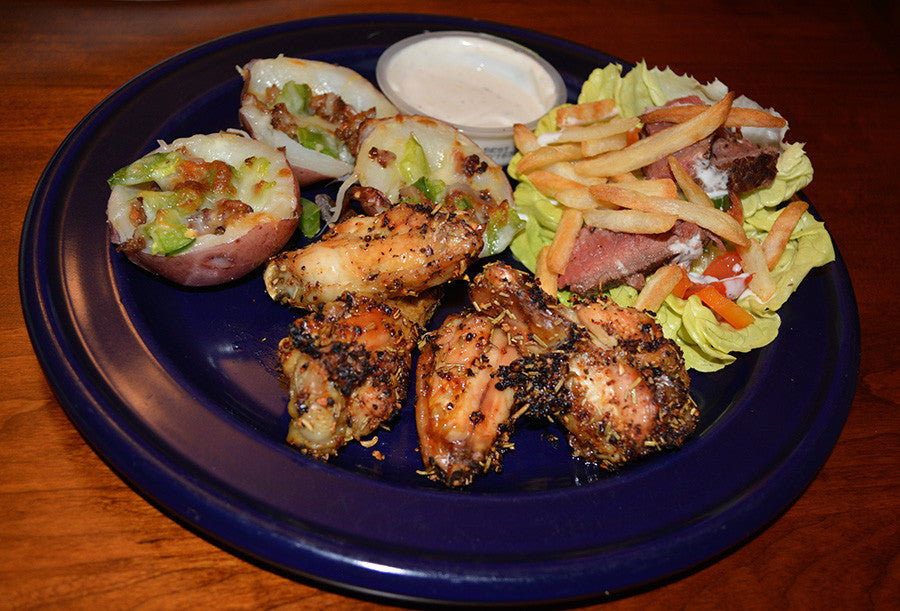 I let too many things get in the way, and life happened, but I am back now, posting blogs. While there will be food blogs, there will also be informational and enlightening ones as well. However, to begin with, I will be deeply involved with the football playoffs. I have come to enjoy football, after many years of being unable to sit through an entire game, as my children have grown up, and I can actually cuddle up with my husband and enjoy the beautiful athletics and talent that is shown on the field.  Mostly, though, I enjoy just cuddling with my husband. To that end, I am creating team football food!!!  
Stuffed potatoes are always at the top of the list for required food on the table as are wings.
These are the Playoff Potatoes and TV Tasties for the Steelers.  Two of the following bites are best warm to hot, the Philadelphia Salad is best cold with hot strips of medium rare steak and hot fries.   
POTATOES 
Waxier potatoes such as red or yukon potatoes work the best and hold their shape best. Steam them until done, then cool and refrigerate, preferably overnight so that the resistant starch has time to solidify and lower the glycemic index so that they are healthier for you.
Crumble the cooked sausage, chop the green pepper, saute the onion on low-medium heat until slightly caramelized. 
Slice in half, then  using a tablespoon, scoop out the middle of the potato half, leaving about 1/4" of the potato intact.  
Place the halves on an oven-safe cooling rack placed in a baking sheet pan lined with foil or silicone baking mat (to keep it clean). Place a pinch of shredded cheddar cheese in the bottom of the potato, then a bit of onion, sausage, green pepper, and top with a pinch of mozzarella cheese.  Amounts will vary according to the size of the potato and peoples tastes.  You can make this a whole meal if you use a large russet potato (steamed and cooled), which allows it to be stuffed with even more goodies. 
Place in oven preheated to a high broil and continue to broil until melted, serve immediately, although they are delicious at room temperature.  
smallish red or yukon potatoes, steamed
mozzarella cheese, shredded
thinly sliced onion, gently cooked to caramelized state
WINGS  roast at 425°F for about 30 minutes.
Dry the wing sections and place in a bowl. Add enough oil to lightly coat them and sprinkle with seasoning mix. Rub in well.  Place wings on an oven proof cooling rack. Place in preheated oven and roast until golden brown and completely cooked. If more browning is desired, turn to broil until they reach your desired perfection. Be careful not to dry them out. It is  advisable to use a thermometer to monitor the temperature. 
wings, tips removed, and cut into two sections
seasoning   try lemon pepper, BBQ, rib, Whole Spice Napa rub, etc.
PITTSBURGH SALAD!!!
This is considered an iconic food in Pittsburgh, although I have never been there, or sadly, never had a genuine Pittsburgh Salad. Following some general guidelines, I created something we absolutely loved!  It reminds a bit of a super salad I had at Brio Tuscan Grill.  A delicious combination of vegetables, horseradish dressing and slices of medium rare tenderloin  with a balsamic drizzle on top. I used ranch dressing because I couldn't figure out the horseradish dressing. But it was delicious.  Using butter leaf lettuce leaves, vegetables, sliced medium rare top sirloin and yes, crispy skinny french fries, I ended up with a fabulous lettuce wrap sandwich!
Not exactly an authentic Pittsburgh Salad, but delicious and in keeping with the spirit.
Separate, clean, and spin dry the butter leaf lettuce leaves. Put desired vegetables in leaf, lay thinly sliced delicious top sirloin steak on the vegetables, place hot fries on the top and drizzle with dressing.  Use dressing to dip fries in if desired.
Suggested Vegetables   orange sweet peppers thin short slices
  cherry tomatoes, quartered 
So here you go STEELERS FANS!!!    Best of luck in your pursuit of a Super Bowl Victory!  And enjoy these (mostly healthy) Football Food