Molten Chocolate Cake - An Extra Gold Star From Santa!!
Molten Chocolate Cake - An Extra Gold Star From Santa!!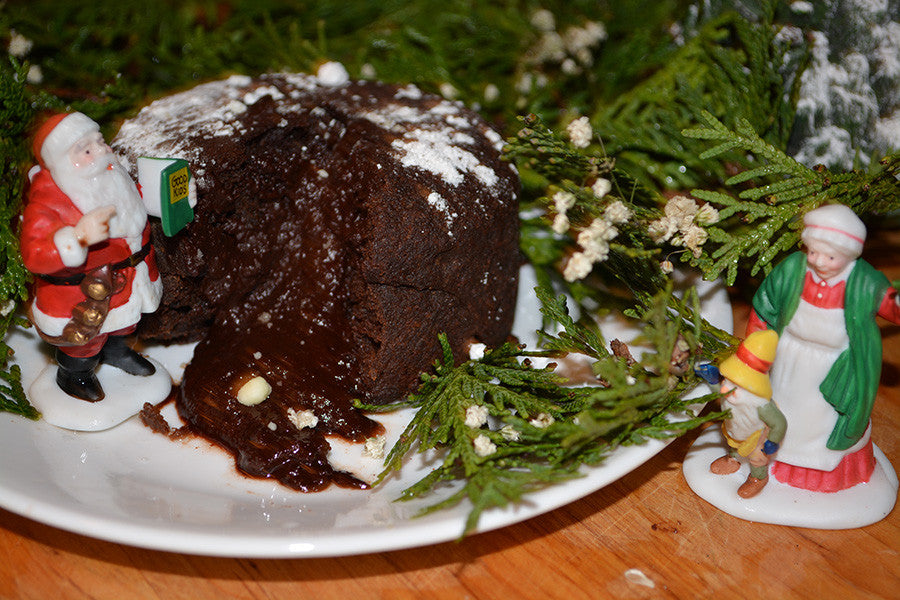 Ahh, is there any dessert better than Molten Chocolate Cake? Maybe with a small scoop of premium vanilla or la leche/caramel ice cream?
Santa may just give you extra gold stars if you leave this for him on Christmas Eve! 
 I like to give recipes that are delicious on their own, but also provide the cook with an opportunity to change up or adapt to specific tastes of their family. This is no exception. While drop dead delicious on it's own, there are some wonderful ways to adapt it, making it more kid friendly, exciting, and never ever boring. 
Here is the basic recipe.
http://www.foodnetwork.com/recipes/chocolate-truffle-cake-recipe0.html
Now, for the variations! First, you can change the flavors in the truffle, making it orange, raspberry, a liqueur, coconut, rum, just about anything you can imagine.  My favorite is orange, so I start with 1 Tbs of orange extract. I am also crazy about coconut.
 Ingredients:
1 Tbs chocolate truffle in the cake batter!!
Second, try a simple devil's food cake mix.  What????  Yep, try a basic cake mix, then add the truffle mix to a half filled cupcake, and cooke.  This is especially nice for kids, and if you let it get cool, it makes a delicious filling.
 OR try filling ramekins half full, put in Tbs of caramel, or marshmallow, or……
 Delicious!!!
 It also works with boxed molten chocolate cakes.  All ways are delicious. 
 Speaking of fillings, if you want to go that way and not be molten, try this
Filling Ingredients:
1 pkg cake mix…devils food, white, yellow, you get the idea. Put a tablespoon of this filling inside, and cook according to pkg directions.  Yummy!        
1 8 oz pkg cream cheese, room temperature
1 egg
6 oz chocolate chips peanut butter chips, etc. OR chopped maraschino cherries, dried fruit like apricot, etc.
Enjoy!!  I'm sure those extra gold stars will bode well for your Santa gifts! ; )
Live nimble!