Roasted Nut Bark Candy
Roasted Nut Bark Candy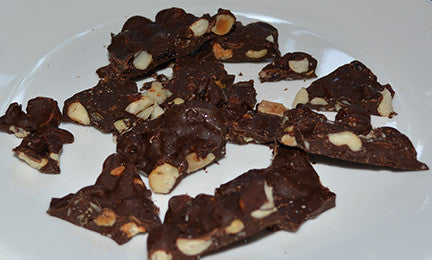 I couldn't believe the MSN article I read on the 10 best foods to enhance your love life. On MSN there are lists for just about everything, but I decided to have a look. Yep, some of my favorite foods were there, I noticed, in particular, chocolate, nuts, and ginger. I had just seen a recipe on pinterest about a hazelnut bark that had ginger in it, and so I thought I would give it a try, and change it up a bit, using my cooling/cooking rack to toast the nuts as well as cool the mass down more efficiently.

I started by checking out what kind of nuts I had in the freezer, and saw a small amount of Macadamia nuts, but no hazelnuts, so, decision made, I turned on the oven and got the rack out. Since the grid is smaller than some, the nuts were perfect on it, each nut being cradled in a square wire frame with a nice bit of air circulation around each nut and underneath as well as on top. I am certain that I will try roasting seasoned garbanzo beans as well as almonds.

I popped the Macadamias into the oven at 350°F for 7 minutes, and they came out perfect.
While they cooled, I chopped my add-ins of dried bing cherries and crystallized ginger. 


Ingredients: 
Macadamia Nuts
12 ounces semisweet chocolate, at least 50%, up to 70% or higher if you like.
2 Tbs crystallized ginger, chopped fine
1/2 cup dried bing cherries chopped somewhat fine. You may use another kind of dried cherry, but there is less sugar added to the Bing's, so that is why I like them.
I melted the chocolate in the microwave, thirty seconds at a time, stirring thoroughly between the thirty second intervals. Before all of the chips are melted, let the chocolate sit, stir until everything is melted.

With everything ready, it was time to mix. Super simple!!! Just put all the ingredients into a nice bowl, dump all the melted chocolate in, mix well,
and then………

spread out on a sheet. In this case, I used parchment paper on top of my cooling rack, allowing it to cool more quickly. Then, since I had not tempered the chocolate, I needed to put it in the refrigerator to make it hard. Tempering the chocolate is always the best, but it can be a bit touchy until you have done it a few times. The good news is that the candy isn't around long enough for it to make much of a difference.




I would have had a picture of a plate full of the tasty morsels, unfortunately, my teenage grandchildren were very excited about them, so I barely had enough left to take this picture!!