Tailgater Tater Skins!
Tailgater Tater Skins!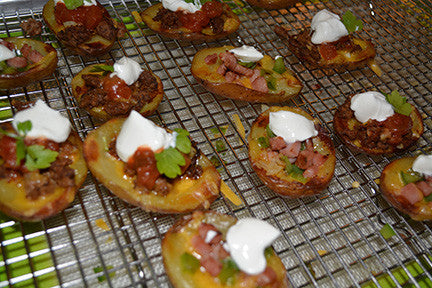 Going to the store today was an emotionally difficult experience for me. Until the last few days I have been able to get organic heirloom tomatoes, Goddess melons from the Melon Shack, late strawberries at the Farmers Market, corn on the cob, fresh basil, and other delectable treats.  Now they are mostly gone!! I feel a great deal of sadness hanging on to the last few threads of summer, feeling lost.
It is raining more now, cloudier, gray, but as I look at the produce in the market, I see brilliant sunshine. The melons have given way to squash of all sizes, shapes, and flavors, the tomatoes have been replaced by fall carrots, sweeter and more deeply flavored than spring, and huge heads of cabbage, cauliflower, and potatoes.  Greens, browns, oranges, the colors of fall.
 PICTURE OF SQUASHES
It is also time for football, soup, and comfort food.  As I look at some of my friend's blogs they are stuffed with heavier, cheesier, and more filling food-comfort food. But lest you think that this fall comfort food is too heavy, be of good cheer. I am preparing some amazing recipes with squash, potatoes, pulses, and winter greens.  Roasted pears, squash, and healthy potatoes.
But today my focus is on football and football food.  I have already posted a recipe for the quintessential football food——Chicken Wings!!!  Regularly on the list of the 50 worst foods you can eat, they can actually be prepared so that they are almost healthy and the fat in them consists of some healthy fat as well! At least, you shouldn't feel too guilty. 
I will do a blog on chicken wings as well, but I want you to try something really really fun!  Potato skins that are tied to your favorite football team.  Thursday night football this week will be all about Denver Broncos and San Diego Chargers.  Therefore, I have found a way for you to have pretty healthy potato skins themed for your favorite team!
Potatoes, like chicken wings, get a bad rap. "Whatever you do, don't eat potatoes, they are full of dangerous carbs!"  Well, it isn't necessarily so. When potatoes are hot, they have a very high glycemic index, which can wreak havoc with your insulin levels. However, when they are chilled for a day, their glycemic index is ridiculously low, and hence, not a bad carb. The nutrition in a potato is incredible, with all kinds of vitamins, minerals, and protein. Just make them small potatoes so portion control is much easier. Try them cold for the healthiest option. Delicious and healthy!
The Broncos are in Denver, so since you think Denver omelet, I have fixed a delicious Denver omelet potato. For San Diego, I chose a stuffed taco theme, as I had some amazing tacos there when I visited once and there are some amazing taquerias there.
 First, select small organic potatoes. Red or yellow are best, as they stay together better when cooked and cooled, and are creamier.  Fingerlings are fine, probably purple, and russets are good as well, they just tend to fall apart more easily.  Organic potatoes are best, as non-organic are sometimes sprayed after harvest with a chemical that retards sprouting. That is important in the longevity of the potato, because sprouted potatoes aren't very good when sold. (The sprouts are poisonous, so do not eat the sprouts. Remove them first ).
There are two ways you can cook them.
Rub a tiny amount of oil over them and then place them on cooking rack without foil covering them. (live-nimble rack, of course). Roast at 450°F for about 15 minutes until tender but slightly firm, depending on size. Remove from oven and cool. Refrigerate for a day, or overnight at a minimum.
You may also just pop them into a rice cooker/steamer, and steam them for about the same amount of time until tender but slightly firm. Then cool and refrigerate.
PICTURE OF SLICED POTATOES SCOOPED OUT
The next day, slice each potato in half and remove the insides from the potato. Leave 1/4" if you can. Save the inside for another use (soup, scrambled with eggs, etc.). Brush the potato, inside and out with an oil of some kind (butter, avocado oil, etc).
Place on the live-nimble rack, and roast at 450°F for another 15 minutes to crisp the skin and give it a similar texture of a deep fried potato skin (without all the grease interfering with the flavor but with the mouth feel of a crunchy potato skin. The cut side will also brown. Yum! A rack will allow for better circulation, which makes it crispier!
PICTURE OF POTATOES ON RACK
Remove and put your team's stuffing inside.They may then be returned to the oven for a few minutes to finish the toppings (cheese, etc) and then quickly decorated (with sour cream, salsa, parsley, etc) according to recipe. EAT!!!  They may also taste great at room temperature or cold!
You can make these a day ahead and then reheat in the microwave.
The other option is to scoop the insides out, and then fill them without returning to the oven.  It depends on the filling, but there are some that are absolutely delicious cold.  Of course, the cold ones have a lower glycemic index, so would be healthier for you.
FILLING OPTIONS
Definitely serve this cold, and although it is not dedicated to any team, it is an all round favorite, and great for someone who doesn't want to offend anyone by not cheering for their team. LOL!! 
Egg Salad Stuffing for Neutral Football Fans
take hollowed out potato (leave 1/4" if you can)
Fill with a good size scoop of your favorite egg salad/ potato salad without the potato. This is what I prepare for a small number of people as an appetizer. While all these ingredients are up to your taste buds (they vary a LOT), here are some suggestions, a place to start. Adjust as desired.  
3 Tbs  mayonnaise-your favorite or home made. (may want to thin out a bit with some milk or water) You can also use Vegannaise, Avocado oil, yogurt etc. Use enough to hold egg together and make creamy
2 Tbsp chopped pickle
2Tbs celery
2 Tbs thinly sliced sliced celery
2 Tbs white and green parts of green onion
3 or 4 eggs, hard boiled, peeled, and chopped  (you can chop them perfectly by pressing through the rack into a bowl. Genius!)
About 5 small potatoes
Add ins People prefer to leave out some of these items, or choose to add in others
capers
avocado, mashed well
mustard
Worcestershire sauce,
Sriracha,
Also delicious and a bit more dressed up is
smoked salmon especially cold smoked, or just leftover salmon
crab
shrimp
Using a spoon, scoop some filling into the potato and garnish with…
paprika sprinkle
olive slice
caviar
pimiento
seafood that is used in egg mixture
etc.
The Classic!!!
Don't feel like you have to give up your fav!  Again, put cheese into potato hollow, broil or heat for a few minutes (on a rack of course),  then remove, add bacon, sour cream, etc.  Definitely a crowd favorite, and there is really no need to deep fry.  So much better.!!
The Chargers!!!!
This one is probably best hot or at least room temperature, although my family found them amazing straight out of the refrigerator. The filling could be hot, then the shell will stay cool enough if not returned to oven.
I made small batches of these, for my husband and I and two other family members, as an appetizer, so you will need to adjust as you need.
5 small potatoes
1/4 lb meat
seasoning mix  taco, enchilada…
1/2 cup shredded cheese
salsa
sour cream
Brown some hamburger and add  taco seasoning as per directions, and individual taste, not very moist, a bit dry is best  You can also use taco seasoned chicken, or a mushroom mixture called ……………….
Put some grated cheese into potato hollow return to oven for a few minutes to melt (optional)
Spoon some meat mixture into the hollow, top with more cheese and broil for a moment to melt cheese again—again entirely optional. The cheese will melt if the meat is hot.
Top with a bit of salsa (choose your own heat) and touch of sour cream, a tiny cilantro leaf, maybe a tiny slice of avocado it you like and serve!!  So amazing!
The Broncos!!!
This is also delicious cold, but receives a nod for being slightly better hot.
The amount for appetizer for 4
5 small potatoes
1/3 cu small dice ham
1/4 cu small dice green pepper
1/4 cu small dice sweet onion (or your choice)
1/2 cu cheese…..more….yum
sour cream
1 egg - or more for 3 small potatoes if using omelet option
Dice sweet onion (or your favorite onion), green pepper, and ham into small dice, about 1/8".
Place in pan and heat until the onion is somewhat transparent, the pepper slightly softened.
Sprinkle cheddar cheese in potato hollow, and heat in oven for a few minutes, remove from oven and fill with the ham mixture.  A little cheese and/or sour cream would be awesome as well. Garnish with tiny dice of tomato if you want to be fancy.
The other alternative, that I find amazing is to actually add an egg to the ham mixture and scramble quickly, spoon small amount into potato and top with a bit more cheese.  AWESOME!!!!
So, there will be more  in the next few days, to prepare you for Sunday and Monday night, but this should hold you over.  With the basic idea, you can probably figure out something awesome on your own. You could even challenge your friends to a contest…who can bring the best ones?
 Let me know your creation and maybe I can include it on my blog or FB page. I can't give you filling for every team in such a short time, but I should have list or a link to all of them in the next week or so. Stay in touch, and check out the blog, products, newsletter, and special offers  on   live-nimble.com