It's Summer!! Roast Nectarines!
It's Summer!! Roast Nectarines!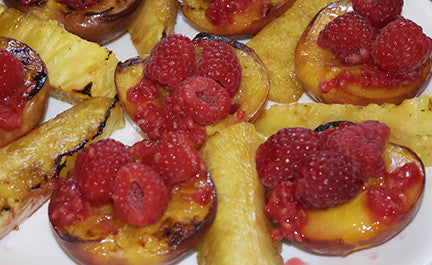 Ahhh, Memorial Day! The unofficial beginning of summer, camping, fun, sun and shouts of school's almost over!!!
It is also the time of year that people love to take their cooking outside, to grill, let smoke fill the air, and savor the winning flavor of primal needs. I have always loved to grill meat, it seemed like the only thing that belonged on the grill when I was growing up. In the last few decades, however, I am enjoying my discoveries of vegetables and fruits that are roasted on the BBQ.
Until about ten years ago, I had never thought to grill lettuces or greens! Now I find them so delicious I cannot imagine a summer without them. Gone is the boring tossed green salad, and here to stay are the fresher green salads with roasted veggies, and the occasional grilled greens salad.
As we have transitioned over the last few decades to a more vegetable and fruit based diet, we have also taken it to the grill. Desserts are focused on grilled fruits, and meals include grilled vegetables. This Memorial Day, in addition to an amazing burger, we also had grilled vegetables. For dessert we had grilled nectarines with raspberries as well as grilled pineapple spears.
When using our rack on the BBQ, it is critical to keep a number of things in mind.
NEVER use the rack unless you are familiar enough with your grill to be confident that the temperature will not go over 500°F. Although safe to 575°F, we recommend that you keep the temperature lower to allow for fluctuations in temperature. Closing the BBQ lid can raise the temperature, so be careful to monitor the temperature. I would also recommend using a gas grill as opposed to a charcoal burner as gas can be easier to control for the non-expert grill master.
For our super simple but delicious dessert on Memorial Day, I used nectarines, but you can use peaches, apricots, pears, or whatever your favorite stone fruit is. Rings or spears of pineapple are also delicious. The fruit is cut in half, the stone removed, and placed on a rack.
Brush each half with Aloha's Tangerine Marmalade which is sold on Live-Nimble.com,
Place the rack on the BBQ, and watch the temperature very closely, as you do not want it to go over 400 degrees F.
When soft and slightly browned, remove from BBQ.
Since peaches and nectarines are such lovely companions to raspberries, i mash some up and sweeten slightly if they need. Here, I did not, as they were the most perfectly sweet raspberries ever.
Spoon some of the sauce on the fruit half, then top with a few fresh berries.
Serve warm or room temperature, or even do ahead and serve chilled. This delicious dessert is equally amazing topped with strawberries, sour cream, flavored yogurt, whipped cream cheese, or whipped cream. Served with ice cream, it makes for a very beautiful and elegant dessert. We prefer it simple, and topped with raspberries so that the flavors stay more distinct.
Tangerine Marmalade gives a delicious, sweet/tangy flavor to the fruit, but you can use Orange Marmalade, or some of the other flavors of jam offered on our website, such as Mango pepper, or Mango-Habanero which gives a big kick of heat to whatever it goes on. Although I have not tried it, I think that the Marionberry jam we offer would be incredible roasted on the grilled fruit. Brown sugar, honey, or other sweetener will give the fruit a slightly different but equally delicious outcome. The star here, is the fruit, which becomes deeply flavored and sweet during the grilling.
A very simple, delicious, healthy and impressive dessert, making your life more nimble!
Live-Nimble!!