Exotic Slow Roasted Tomatoes
Exotic Slow Roasted Tomatoes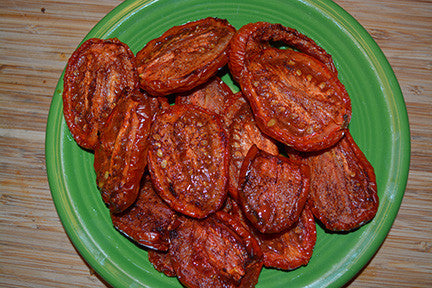 Another interesting side treat for the elegant dinner party or a game day treat, this tomato dish is a bit more sophisticated than tater skins, wings, guacamole, and salad.  It is slow roasted tomatoes!  Divinely elegant, it is a lovely treat at any table, and a healthy indulgence during game time.  It is packed with all the goodness of the tomato, the olive oil, and an extra boost from the cinnamon and saffron which have their own fantastic health benefits.  Cinnamon lowers triglycerides and lowers blood sugar levels.  Saffron is an antioxidant and has disease prevention properties, is an anti-depressant and a source of many essential vitamins like vitamin A and folic acid.
I have taken quite a few classes at Sur la Table in the course of my catering business, and one of them was a delicious seared tuna accompanied by some slow roasted tomatoes. As much as I love roasted tomatoes, putting saffron, cinnamon, and orange water was a stretch for me.  I had used all of those ingredients before, using cinnamon more often in savory dishes than sweet, orange water in desserts, and saffron in some amazing sauces.  I had no idea they would be so amazing on a beautiful tomato.
Ingredients
2 lbs tomatoes, halved
1-2 teaspoons ground cinnamon
punch of saffron threads
1 Tbs orange  flower water
2-3 Tbs of olive oil
3 Tbs sugar
sprinkle of sea salt
almonds
1 tsp butter
You start with the best tomatoes you can find, preferably romas, organic Compari brand is terrific. The smaller ones are also delicious in the winter. Cherry tomatoes would be a bit harder to work with with, but oh so yummy! (shorter cooking time) Wash, dry, cut in half,  A small X cut into the bottom the tomato will help them cook better. Place halves on an oven safe cooling/cooking rack such as the  live-nimble rack (oven safe to 575°F).
In a separate bowl, place saffron and cinnamon and blend/ grind together. Saffron will not break apart entirely, but mix as best as you can. Add orange water and 2-3 Tbs of olive oil, and mix.
Saffron is very expensive, but there are Asian/Indian grocers where you can find quality saffron for a very reasonable price. It is an essential spice in this mix.
Brush mixture on tomato halves, then sprinkle lightly with sugar and pinch of salt. 
Place on cooling/cooking rack (oven-safe, like Live-nimble) over foil covered baking sheet.
Put into oven and roast slow and low at 250°F for about 2-3 hrs, then turn off oven and leave to cool.  Set aside while you do the wings and tater skins.
An optional add is to fry some chopped almonds in butter until golden and sprinkle them over the tomatoes.  
Live-Nimble!  Eat Healthy!