Avacado Ranch / Gameday Healthy
Avacado Ranch / Gameday Healthy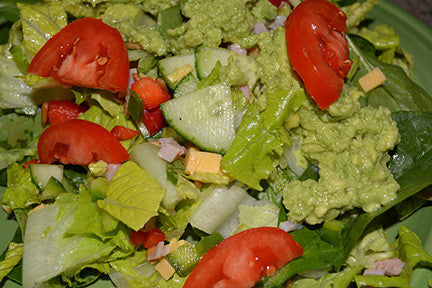 I have been obsessed with making potato skins for the NFL teams, and needed a slightly lighter lunch/dinner.  Avocados were on sale at Trader Joe's, so with some of them getting a bit ripe, I decided to have them in a nice big salad. The extra ingredients I had from the tater skins were also begging for reassignment, so I took some of them out of the refrigerator and went to work.
There are so many recipes for avocados, I think I could fill a 400 page tome with them. Absolutely divine guacamole dips, stuffed, breakfast lunch and dinner, but I needed something for the half time table that would be super healthy, and yet in the spirit. 
I have seen recipes for avocado ranch dressing, but there was always a long list or a list of some kind of ingredients, and they were always a little weak on the ranch flavor side. So, a quick scan of my overstuffed spice rack yielded me what I think is a genius hack. Powdered Ranch dressing.  This was for a yogurt base, so I thought "close enough", and went to work. WOW!! My new favorite dressing, no guilt, healthy, and easy.
So simple, so healthy, so creamy and delicious.  Try it!!
Salad Ingredients
greens mixed or otherwise
vegetables you like such as
            cauliflower
            celery
            tomato
            peppers
            carrots
            cheese
            cucumbers
            corn
            green onions
chop and mix salad ingredients. Tedious, time consuming, but well worth it.
Dressing
avocado
powdered ranch mix
Avocado oil or water to loosen avocado mash
Mash avocado well, better yet, press avocado through your live-nimble rack to give that easy to work with small dice with no hassle! Mash small chunks, sprinkle ranch mix powder over and mix well.  Add Avocado oil or water to loosen mashed avocado to proper consistency.  Mix well, and put it all on the salad…or eat with a spoon…yum!
Avocado oil may seem a strange ingredient. It is a super healthy ingredient, and works well as an additive to loosen up your avocado to spreading/pouring consistency.  Water will work, but not nearly as well.  You can also use yogurt, but again, it makes it tangier, and not quite as solid a ranch flavor.
Eat Healthy!!