Red Pepper Pasta Salad - Summer Treat For Hot Days
Red Pepper Pasta Salad - Summer Treat For Hot Days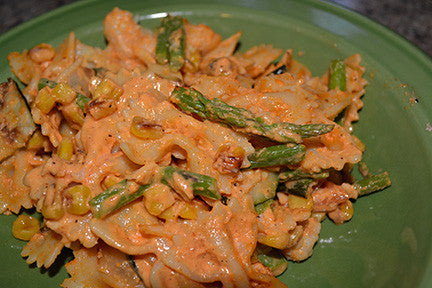 Hot days can be so annoying! We complain all winter about how cold it is, charmed by the falling snow, overwhelmed by shoveling the driveway, depressed when it rains for three months in a row, in love with the rich greenness of the lush vegetation, alive and energized with the warmth and sunshine, and after a week of hot temperatures (for us), annoyed at the heat.
Yes, Oregon has it beauty and charm, the green lush valleys, too many cloudy days that give rise to poetic tendencies, cozy fires in the fireplace, a hundred names for precipitation, and the most beautiful and perfect summer and autumn days imaginable. Even in climes where the weather is a consistent temperature, people become bored and annoyed at the lack of seasons, if they have ever experienced them before.
So, during the really hot weather, say 90° F, I know, so tough, I like to BBQ. When it hits 70°F I like to BBQ, so I am frequently outside when it is not raining and it is decently warm. When the weather gets really hot, though, I like to make everything possible outdoors and keep it cool when it comes to food. So, I think I will make some sort of pasta salad.
First, I do a mis en place, determining what it is I have to work with. I am lucky, as there is plenty to choose from, so I will go with this. I forgot and bought too many red peppers because they were on sale at several stores I went to, so this will be the base of my salad. Along with the fresh leftover stir-fry veggies and pantry staples, I have a plan.
Plentiful Veggies 
Now, to prep them all. I find this to be the most time intensive, especially when I can't use my food processor, when I have many types of veggies in small amounts that need to be prepped differently.

First, the zucchini, an unlikely but essential part of my pasta salad. I slice it about 1/4 inch thick, then proceed to the carrots. They take longer to cook, so I slice the carrots a bit smaller.


Chopped Carrots and Zucchini


Then I prep the red peppers, slicing them in half, and cleaning out the ribs and seeds, then I smash them flat.


Chopped Peppers
Cut the cauliflower florets to about bite size, and the asparagus as well, although I will be blanching them slightly in the pasta water instead of grilling them. The peas just need a quick size reduction, and we are ALL DONE! Ready for the grill.

The Veggies All Chopped
OOOPS!! forgot the onion



Slice in half, then cut thick slices, about 1/3 to 1/2 inch thick, layers not separated. I think we are done now.

You can roast all the veggies on a rack in the oven
or on the BBQ!!!!


Roasted Veggies on BBQ

When they are well roasted, set them aside to be cut later.

Now for the sauce.

Either use almond flour, or pulse raw almonds in a blender. Here I am using the dry blender jar for Vita Mix. Marcona almonds are best, in this recipe but here I am using regular almonds, which I do most of the time.

Almond Flour                                                       Red Peppers 
Peel the skin off the red peppers, cut to smaller size and place in blender jar. Puree, adding oil, garlic, almond meal, and parmesan. Blend smooth.
Cook Pasta either on stove or on the side burner of your BBQ, adding the asparagus and peas a minute or two before it is done. When al dente, remove and drain. If vegetables are not done yet, rinse with cold water to stop cooking, otherwise, assemble all ingredients together.

Cut vegetables to proper size, and assemble mis en place.

One essential ingredient is the corn. Not just any corn, but pan roasted corn kernals, cooked on a very hot pan very quickly to brown them but not dry them out. I use this method on the side burner of my BBQ, but stove top works as well.


mis en place with roasted veggies, corn, pasta, red pepper sauce


Add sauce, whatever amount you want, then shred parmesan on it, again, whatever amount you want. I am a bit too generous with the parmesan, but do it to taste. I might also add, that it tastes great without the cheese.



Adding Parmesan Cheese 


Mix well, and scoop into serving bowl.



YUM!!  Our Finished Pasta Salad


Enjoy by itself, or with a piece of grilled meat.

Live-Nimble!!!!



For the sauce—

5 roasted red peppers
1/4 cu ground almonds or to taste
1 clove, minced garlic
parmesan in sauce and/or on the salad
1/4 cups,more if needed, olive oil

puree all of the ingredients until smooth, set aside.


Vegetables to consider in your salad. Feel free to use what you have on hand, or your favorites.

snow peas very briefly roasted to maintain crispness, blanch in pasta, or use raw.
carrots
onions
zucchini
corn absolutely spectacular roasted, on or off the cob, pan fried to a light brown.
asparagus
savory, a herb remove from stem and add as desired.
Prepare as in the blog directions. Grill or roast in oven, cut to bite size pieces

Prepare pasta, cooking asparagus and snow peas with the pasta water as well.
when al dente, drain and set aside. If not preparing immediately, rinse with cold water to prevent over cooking.

Toss sauce with pasta, then add vegetables as you desire. Adding roasted chicken, shrimp or tofu is great, by itself is great, or use a quinoa pasta and don't worry about any protein!


Live Nimble and Enjoy!!